Huge protest demanding fair Russian elections hits Moscow
Russian protesters angry at what they say are rigged elections and the authoritarian ways of Vladimir Putin, flooded Moscow today demanding change.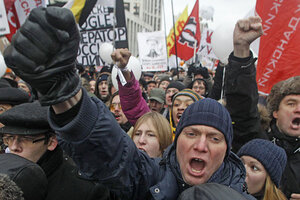 Mikhail Metzel/AP
At least 50,000 protesters flooded a downtown Moscow avenue Saturday to demand honest elections, in an impressive show of strength that dwarfed a rally two weeks ago and affirmed that a surging pro-democracy mood among Russia's frustrated middle class is not likely to fade soon.
Even police said the crowd was much larger than the earlier one on Bolotnaya Square, which was hailed as the biggest protest rally in Moscow since the collapse of the USSR 20 years ago.
"I see enough people to take the Kremlin right now," anti-corruption blogger Alexei Navalny told the wildly cheering crowd.
Mr. Navalny, who was imprisoned for 15 days for taking part in the post-election protest, is best known as the author of the hyper-popular phrase "party of rogues and thieves" used to describe Vladimir Putin's United Russia.
"But we are a peaceful force, we won't do it – yet. But if the rogues and thieves continue trying to deceive us and lie to us, we will come for it. (Power) belongs to us," he added.
---
Follow Stories Like This
Get the Monitor stories you care about delivered to your inbox.