An end to cut, cut, cut? Merkel and Sarkozy agree to focus on growth.
In a Berlin meeting today, German Chancellor Merkel and French President Sarkozy signaled a major shift in eurozone economic strategy by making growth a priority in managing the economic crisis.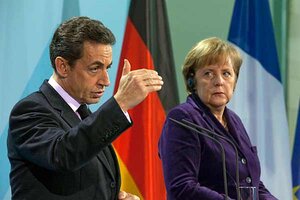 Gero Breloer/AP
After months of focusing on fiscal discipline in the eurozone, pushing indebted countries to cut their spending, the leaders of France and Germany are turning their attention to growth. The change in tack has been heralded as the right move – albeit a late and probably insufficient one.
In a meeting today in Berlin, German Chancellor Angela Merkel and French President Nicolas Sarkozy said that boosting economic growth should be a priority in Europe's efforts to overcome the sovereign debt crisis.
Addressing the press after the meeting, Mr. Sarkozy said that he had agreed with Chancellor Merkel that while they needed to keep working on reducing deficits in the eurozone, their focus should be on growth, employment, and efficiency of European economies.
"Finally they are talking growth now," says Charlie Parker, investment editor with the London-based financial publication Citywire. "That's good for the medium term, but what they – and Germany in particular – need to do straight away is start spending." Mr. Parker argues that only government expenditure can prevent European economies from sliding into recession, thus aggravating the debt crisis.
---