Costa Concordia: Capsized cruise ship owners blame 'human error'
Costa Concordia owners say that the captain made an unauthorized deviation from the programmed course, leading to the deadly crash.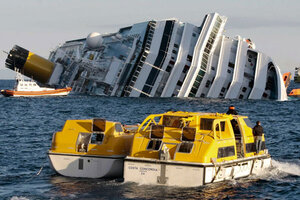 Gregorio Borgia/AP
The captain of the Costa Concordia cruise ship that capsized off Tuscany made an unauthorized deviation from its programmed course, a "human error" that led to the vessel's deadly grounding, the ship's Italian owner said Monday. Rescue operations, meanwhile, were halted as the wreckage slightly shifted.
The comments from Costa Crociere chairman and CEO Pier Luigi Foschi ramped up the pressure on the captain, who already is under investigation by authorities for suspected manslaughter and as well as allegations he abandoned ship before the passengers were safe, violating the Italian navigation code.
Six bodies have been recovered so far from the wreckage of the Costa Concordia, which ran into a reef Friday night and capsized into the port area of Giglio, sparking a frantic evacuation of the 4,200 people onboard.
The rescue operation was called off mid-afternoon Monday after the Costa Concordia shifted a few inches (centimeters) in rough seas. The fear is that if the ship shifts significantly, some 500,000 gallons of fuel may begin to leak into the pristine waters around the island of Giglio.
Fire department spokesman Luca Cari said the ship had shifted a few centimeters vertically and horizontally Monday because of the turbulent waters. He said an underwater search for 16 people still missing was put on hold.
---