After airing false footage of Costa Concordia, Italian media under fire (+video)
Critics say mistakes made while reporting on the Costa Concordia undermine the Italian journalism industry's argument that its strict regulations are essential to maintaining credibility.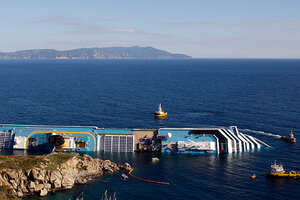 Max Rossi/Reuters
While the search for victims in Friday's cruise ship wreck off the Italian coast continues, with rescue squads blowing holes in the sides of the ship to provide escape routes for anyone still trapped, the media frenzy has raised questions about journalistic ethics and practices in Italy, where entry into the profession is tightly controlled.
Given slip-ups by established news outlets, bloggers say that the rules limiting membership should no longer be tolerated.
At least 11 have died in the Costa Concordia wreck and at least 29 more people are missing after the ship's hull was torn open when it ran aground off the coast of Tuscany, causing the 4,000-passenger vessel to keel over. The ship's captain, Francesco Schettino, is under arrest and may face charges that include manslaughter, shipwreck, and abandoning a ship when passengers were still on board, according to news reports. He faces up to 15 years in prison.
On Monday, the cruise ship company Costa Crociere, which owns the Costa Concordia and is Italy's leader in luxury cruises, accused Captain Schettino of deviating from a computerized route and of abandoning the ship before the evacuation has been completed. Company President Pier Luigi Foschi said in a press conference that his firm will take part into the trial as "parte lesa," meaning it will side with the accuser and ask for compensation.
---