German tabloid Bild takes down politicians with its unmatched megaphone
German tabloid Bild, Europe's largest newspaper, drives the political agenda of the most influential economic power on the continent. Its latest target: President Christian Wulff.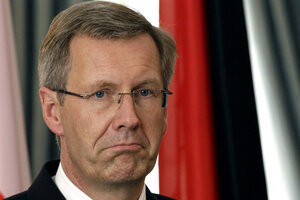 Michael Sohn/AP/File
It's notorious for its mix of gossip, inflammatory language, and sensationalism, which includes a daily picture of a topless woman on the front page. It receives more reprimands from Germany's independent press watchdog than any other paper. And it engenders fear in the hearts of politicians, who rarely dare to cross Bild – Europe's largest newspaper – which reaches 12 million readers daily.
Just ask Christian Wulff.
The German president found himself the subject of heated debate after articles appeared about the propriety of a private loan to finance his home. Having survived the initial storm, Mr. Wulff then made what may have been an even bigger mistake: threatening Bild. Since the spat started, his popularity has dropped precipitously and there have been calls for his resignation.
Bild has the undisputed ability to shape the careers of politicians from across the ideological spectrum. But its power to channel and magnify perceived public sentiments and its readiness to support or reject public figures is also highly controversial, with many observers charging that the paper abuses its clout.
"Bild is a high-risk factor for every public figure," says Hans-Jürgen Arlt, a professor of political communication at Berlin's Free University. "Its circulation and its constant readiness to judge and to condemn give it the capacity to cause a lot of damage."
Some high-profile figures see Bild as a threat. Judith Holofernes, a popular German singer who was asked in 2011 by Bild to appear in an ad campaign for the paper, refused in an open letter.
---