Costa Concordia captain: symbol of the era?
The Concordia captain's missteps and failure to take responsibility have spurred deeper discussion about a dearth of moral leaders.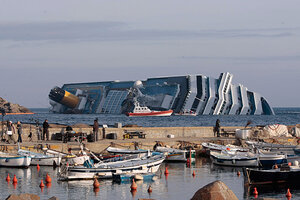 Gregorio Borgia/AP
When the Titanic went down in 1912, the orchestra was reportedly playing "Nearer My God to Thee."
When the Costa Concordia began to sink off the Italian coast on Jan. 13, Celine Dion's tribute to the Titanic, "My Heart Will Go On," had just been playing in the dining room.
The Titanic cataclysm in the freezing north Atlantic is magnitudes greater on history's scale than last week's accident off Giglio Island, but as details emerge, so do similarities: Both disasters are seen as exemplifying a misplaced confidence of unsinkability and the presumed impossibility of human error.
The Titanic symbolized the end of 19th century's arrogant assumptions of infallibility, and the mass attention paid to Concordia may speak of a world yearning for strong leadership and instead watching a captain abandon his ship to save himself.
"Concordia has become a morality play for how we feel about leadership," says Paul Bickley, senior researcher at Theos, a public theology think tank in London. "Across Europe and among higher eschelons of society there is a perception that leaders are increasingly selfish, and not helping those in need. We've called it a leadership pathology. Even before the details came out, many people assumed or suspected this captain jumped ship."
Go down with the ship? Not in this century.
In a 2010 interview, Concordia captain Francesco Schettino actually compares modern cruises to the Titanic, saying, "These days, everything is much safer… It is easier to navigate thanks to modern technical instruments and the Internet."
---