IMF: $650 billion isn't enough for the European bailout fund
European finance ministers agreed to move up the launch of a permanent bailout fund by a year, but the fund is still too small, according to the IMF.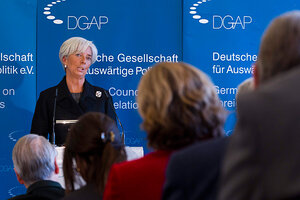 Thomas Peter/Reuters
Eurozone finance ministers have agreed to install a new, permanent bailout fund a year earlier than planned, a sign that the continent still struggles to find the right cure for its sovereign debt crisis.
At a meeting in Brussels last night, the Eurogroup decided to launch the European Stability Mechanism (ESM) and provide it with a volume of €500 billion ($650 billion).
Criticism came quickly. The International Monetary Fund (IMF) said the fund should be boosted to €750 billion ($976 billion). Europe needs "higher firewalls," said IMF Managing Director Christine Lagarde in a speech at the German Council on Foreign Relations in Berlin on Monday.
The German government promptly rejected the suggestion. Chancellor Angela Merkel said her country was doing everything needed to save the euro, but that a boosting of the rescue fund is unnecessary at this point of time. Germany supplies €22 billion ($28.5 billion) in cash and €168 billion ($218.5 billion) in guarantees to the ESM. Germany has shouldered the largest share of this bailout funding so far.
---