Russia bars liberal candidate from presidential election
Russia's electoral commission has disqualified veteran liberal politician Grigory Yavlinsky from running against Vladimir Putin, showing that Putin's 'managed democracy' is still at work.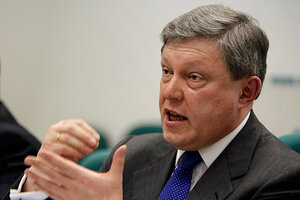 Alexander Zemlianichenko/AP
Veteran liberal politician Grigory Yavlinsky, who's been a presidential candidate three times before, will not be allowed to run against Vladimir Putin in the upcoming March 4 presidential polls, Russia's official electoral commission announced today.
The decision will not only prevent Mr. Yavlinsky from campaigning or addressing the electorate over the next five weeks, but also denies his party, Yabloko – Russia's oldest grassroots liberal party – from fielding election observers to monitor the voting.
Kremlin critics are in an uproar over the ruling, saying it proves that the Putin system of "managed democracy," which weeds and landscapes Russia's political garden to ensure no viable independent challengers to the Kremlin's chosen candidates can emerge, is still alive and well.
"The Putin strategy is to win the election decisively in the first round, and the presence of Yavlinsky on the ballot would have complicated things," says Sergei Strokan, a columnist with the Moscow business daily Kommersant.
"In the past, Yavlinsky could be relied on to get a limited and predictable portion of the vote from urban, middle class intellectuals, and that was OK with the Kremlin," he says. "But since the mass demonstrations in December, everything's changed. Unlike others on the ballot, Yavlinsky could be an acceptable protest candidate for millions of people who are tired of Putin. He could catch a protest wave that would possibly prevent Putin from winning a first round knockout. So, they decided he had to be excluded."
---