Germany's green energy sector: can it grow without subsidies?
Generous subsidies for Germany's green energy sector have been so successful at fostering growth that the government is now asking if the industry can survive without them.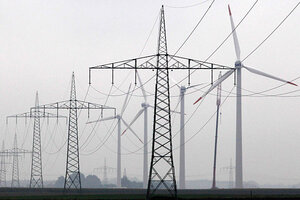 Christian Charisius/Reuters/File
Berlin and Feldheim, Germany
Germany's renewable energy sector has experienced a boom in the last decade that has far superseded expectations. Supported by generous subsidies, a public that is fairly open to green investments, and a widespread skepticism of nuclear power, energy producers have covered the country with wind generators and solar panels. Twenty percent of Germany's electricity now comes from renewable sources.
But the industry risks becoming a victim of its own success. It is locked in a bitter debate with the government about the future of the subsidies that have allowed it to flourish. The government wants to severely curtail the financial support – particular for solar energy, which provides only 3 percent of Germany's electricity but receives about half the subsidies – although there are doubts the renewable energy industry could survive without it.
Feldheim, a tiny village just south of Berlin, is pretty, but otherwise unremarkable. Two dozen houses sit along a street lined with chestnut and maple trees. Nothing hints at why this place claims to be "the future" – but as the first energy self-sufficient village in Germany, and maybe the whole Continent, it just might be, says Werner Frohwitter.
Mr. Frohwitter's company, Energiequelle GmbH, provides all of the town's homes with heat and electricity generated from renewables at their doorstep, which feed into a local grid. Windmills rotate just behind the houses, a biogas plant on the outskirts provides heat and additional energy on windless days, and a bit farther down the road, rows of solar panels in a field face the dull winter sky.
Feldheim residents' energy prices are 30 percent below the average in Germany. Energiequelle profits from feed-in tariffs, a subsidy on the amount of energy they feed into the system. It gives the company, as a renewable energy provider, a 20-year guarantee on the amount of energy they can feed into the grid at a price that is considerably higher than what fossil energy providers get on the free market.
---