Spain's new conservative leaders make rapid push to overturn liberal laws
The speed with which Spain's conservative People's Party has pursued social reforms has stunned many Spaniards, who expected the government to wait until the economy improved.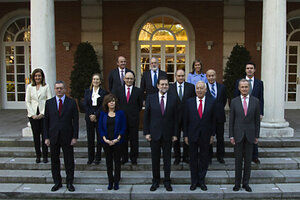 Sergio Perez/Reuters/File
Spaniards have been taken by surprise by the new conservative government's aggressive efforts to implement social reforms, overturning several liberal laws passed by the previous government amid tremendous economic uncertainty.
The previous Socialist government passed a substantial amount of liberal legislation in the last eight years, including limiting the role of the Catholic Church in the state, legalizing gay marriage, relaxing abortion restrictions, and reforming the educational curriculum. While the Catholic Church and the ruling Popular Party accused Socialists of imposing an ideologically-motivated agenda too quickly, Socialists said they were only harmonizing Spanish laws with European standards – with the support of the majority of Spanish citizens. Dozens of polls over the past three years have consistently showed an even split on social issues.
The People's Party was voted into parliament with an absolute majority in November, mostly on a mandate to fix the economy, but it also promised to roll back some socialist laws on abortion and education. Now, some Spaniards are stunned with the party's decision to take on a cultural counter-revolution of sorts during a time of such great economic and political uncertainty.
"This is the first time such profound revisionism takes place so fast, but the fact that nobody expected it makes it worse," says Fermín Bouza, a sociology professor specializing in public opinion in the Universidad Complutense de Madrid.
The People's Party promised the legislative reforms during the election campaign in order to secure essential votes from its conservative base, but most Spaniards expected Prime Minister Mariano Rajoy to delay any controversial ideological issues until the economy improved. Spain has the highest unemployment rate in Europe, almost 23 percent, and the Central Bank expects the economy to contract 1.5 percent in 2012 after a year of stagnant growth in 2011.
---