Eastern Europeans resourceful in face of record cold snap
Eastern Europe's cold snap has brought temperatures to 100-year lows in some places, but in many places, the buses are still running and people have plenty of canned goods.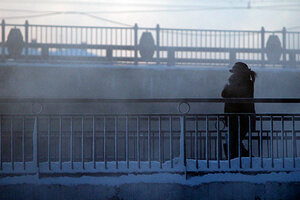 Anton Golubev/Reuters
News of shocking death toll and whole regions shut off from the rest of the world by snow and closed roads and railways have dominated headlines from Eastern Europe in recent days. But even as officials struggle to respond to extreme temperatures, many people are forging ahead with daily life, fortified by years of experience and hot drinks.
Temperatures have hit 100-year lows in some parts of the region, nearing minus-25 degrees F., well below the usual level. The death toll across the region now tops 200 – roughly 30 in Poland, 22 in Romania, at least 10 in Bulgaria, and more than 160 in Ukraine, where many people reportedly froze to death on the streets. In Serbia, almost 12,000 people are said to be isolated, trapped in remote villages and farmsteads.
In Romania, trains and flights have been cancelled, and the border with Bulgaria was temporarily closed due to snow. The situation is serious enough for the government to deploy armored cars to rescue stranded motorists, and for the mayor of Bucharest to call for bakers to lay in stocks of bread in preparation for worsening conditions.
---