Norwegian terror suspect Breivik tells court today he deserves a medal
In his court appearance today, Norwegian mass killer Anders Behring Breivik pleaded not guilty, saying the July 2011 bomb blast and shooting spree were 'self defense' of his culture.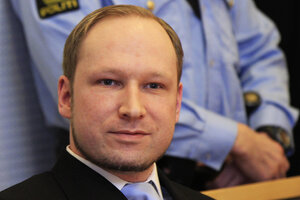 Lise Aserud/Scanpix Norway/REUTERS
Hundreds packed Oslo District Court to see Anders Behring Breivik, the Norwegian man who confessed to last summer's twin terror attacks in Oslo, for the last time before his long-awaited trial in April.
Mr. Breivik appeared in court for a final custody hearing dressed in a dark suit, composed and smiling subtly as he flashed his handcuffed arms in what his lawyer described as an extremist gesture in front of the media, survivors, and victims' families.
He pleaded not guilty to the car bomb blast on July 22 against government buildings in Oslo and a subsequent shooting spree on the Labor party youth camp on the island of Utøya that killed 77 in the worst national tragedy in Norway since World War II.
Breivik cited self defense on behalf of his culture as the basis for his plea. He said both attacks were a "preventive attack on traitors" because the Labor-led government – which he has blamed for promoting the "Islamic colonization" of Norway – was allowing the "deconstruction of Norwegian culture." Breivik suggested he should receive a war medal for his actions.
"Ethnic Norwegians will become the minority in 10 years," Breivik said during a brief opening statement, which provoked short, sharp bouts of laughter from victims present in court. "Indigenous people subject to genocide have the right to defend themselves."
Judge Wenche Gjelsten cut Breivik short and ordered him to be returned to Ila prison to be held in custody until his trial starts on April 16, citing a risk that he would commit further acts. Judge Gjelsten's decision was expected, despite the defense's plea that Breivik be immediately released because of possible doubts about his sanity.
Two court-appointed psychiatrists, Torgeir Huseby and Synne Sørheim, concluded in November that Breivik was paranoid schizophrenic and psychotic and hence not punishable under Norwegian law. The diagnosis sparked criticism among some legal experts, who questioned how someone who so meticulously planned a crime over many years could be found psychotic.
---