In Ireland, EU treaty on debt remains in doubt
If Ireland rejects a recent EU treaty in a national referendum, it could undermine the fiscal compact Europe is hoping will bring the debt crisis under control.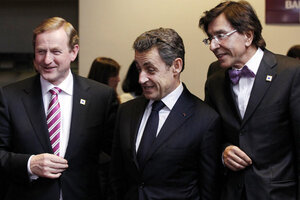 Francois Lenoir/Reuters
For most of the European Union, the fiscal treaty approved earlier this year is a done deal. In Ireland, however, where the Constitution requires a national referendum on any legally binding document, approval is far from certain.
Much of the uncertainty rests on whether the referendum is actually required in this case. Ireland's attorney general will not make a ruling on that question until late February, but opposition parties left and right are demanding one regardless of the decision.
Both the Irish government and EU officials are keen to avoid a referendum, which, if it failed to pass, could damage the fiscal compact that Europe is hoping will help get the Continent's finances under control.
The EU treaty stipulates that member states must commit to structural fiscal deficits not exceeding 0.5 percent of GDP, and lower and then maintain debt-to-GDP ratios of at most 60 percent. Countries that run an excessive deficit will be subject to structural reform defined and overseen by the EU. Twenty-five of the 27 EU state states have agreed, with only the United Kingdom and Czech Republic refusing.
If Ireland rejects the treaty, the country would be excluded from the Economic Stability Mechanism (ESM), the EU's permanent bailout mechanism designed to take the place of the temporary fund created to disburse loans to the EU's struggling economies. The government also claims the country's membership in the euro currency is at risk. Finance Minister Michael Noonan told Bloomberg in December, "It really comes down on this occasion to a very simple issue: do you want to continue in the euro or not?"
---