Murdoch media crisis deepens with five new arrests
Rupert Murdoch, the media mogul who made and broke British prime ministers, now appears powerless to thwart investigations into alleged misdeeds by his empire.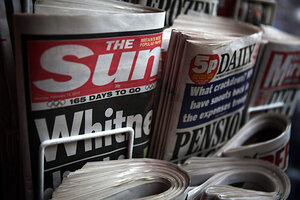 Finbarr O'Reilly/Reuters
The famed Rupert Murdoch tabloid scandal-mills are grinding yet again.
After five senior journalists at Murdoch's tabloid The Sun in London got arrested Feb. 11, the billionaire media mogul is again the subject of gawking and speculation. The arrested face charges of bribing public officials for information.
The arrests suggest that the Murdoch crisis is not a sensational one-time British event that climaxed with last summer's phone-hacking scandal, but is instead deepening. Allegations of misdeeds by his media empire, fed in part by disgruntled Murdoch employees, are being pursued at the highest levels of the British establishment – signaling a distinct shift from years in which his incredible sway served as a strong deterrent to such scrutiny, analysts say.
Yet the man who made and broke British prime ministers and politicians seems unable to do much about the slow grinding of multiple investigations into News Corp. behavior and alleged cover-ups.
Murdoch "had an easy ride for decades with total political cover," argues James Curran, head of media studies at the University of London. "Now, in the space of a few months, this changed. The political class in Britain provided cover for Murdoch; they were cowed by [News International]."
As an example, he points to the change in fortunes for News International's former chief executive and Murdoch protégé Rebekah Brooks, who was arrested in July last year.
---