Iran to Europe: Want oil? Meet these demands.
Iran has threatened to cut off its oil exports to Europe unless European countries agree to a series of economic concessions that would go against recently approved sanctions.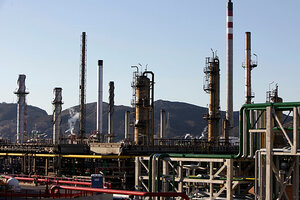 Francisco Bonilla/Reuters
In response to a European Union embargo on Iranian oil scheduled to into effect in July, Iran has threatened to unilaterally cut off its oil exports to six European nations. But while many observers see the move as a toothless bluff aimed at pushing oil prices upward, the prospect of uncertainty could prove disastrous for fragile European and global economies.
Despite an onslaught of bad economic news in Europe that is reducing global oil demand, prices spiked for a few hours Wednesday to their highest level in more than six months after Iranian state media erroneously published that crude supplies had already been cut to Italy, Spain, Greece, Portugal, France, and The Netherlands.
Prices dropped soon after the Iranian government clarified that it had simply notified diplomats of those European countries that it was setting new – and unacceptable, in European eyes – conditions to continue selling them oil, including disregarding the embargo that EU countries agreed to in January.
"It doesn't make sense," says Harry Tchilinguirian, senior oil market analyst in BNP Parisbas, a French bank. "They are going to stop selling oil to countries that agreed not to buy. It's the same thing."
---