Sarkozy seeks presidency again, promising 'strong France'
French President Nicolas Sarkozy, who has presided over a deep economic recession since taking office, formally threw his hat into the ring to seek another term.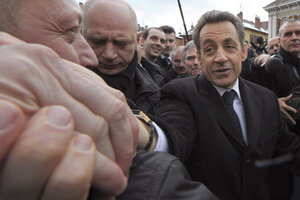 Philippe Wojazer/REUTERS
Trailing in polls and criticized by supporters for taking too long to unleash his formidable campaign skills, Nicolas Sarkozy has finally made his reelection campaign official, telling France, "Yes, I'm a candidate in the presidential election."
During his television announcement last night, the French leader broke briefly with his unapologetic style to say he will listen to voter concerns about unemployment, and admitted falling short on sweeping reforms he promised in 2007.
"If you want to make me say I haven't achieved everything, that is for sure," Mr. Sarkozy said in a 45-minute talk watched by 10 million. "I don't know anyone who has succeeded in everything."
Sarkozy mainly presented himself as the French protector-in-chief. Facing Socialist Party frontrunner François Hollande amid a wrenching debt crisis, Sarkozy said he has the necessary experience, is the "captain of the ship" and will not "abandon his post" in the storm. His re-election motto is "Strong France."
Can he present a fresh image?
The daily newspaper Le Parisian said Thursday that Sarkozy succeeded in presenting a "fresh image." The first official Sarkozy Twitter account was opened yesterday, along with the "La France Forte" website. However, a "Sarko ca Suffit" Twitter hashtag – "Sarko we've had enough" – was also trending last night.
---