Murdoch celebrates 'amazing' success of new tabloid as inquiry delivers new blow
The first Sun on Sunday sold more than 3 million copies. On Monday, an inquiry said the Sun had bribed officials and police officers.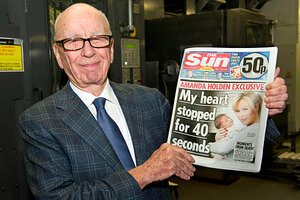 Arthur Edwards/News International/Reuters
Seven months after the disgraced News of the World (NOTW) newspaper folded, media company News International sought to woo back readers with its debut edition of The Sun on Sunday, a seventh day edition of its daily tabloid.
That its launch was followed today with the leader of an inquiry into press ethics saying reporters and editors at The Sun had paid hundreds of thousands of dollars to police officers and government and military officials for information illustrates how difficult it may be for News International to repair its reputation.
The Sun on Sunday's publication followed a week of television adverts cheerily proclaiming that "In Britain The Sun comes out every day." The Sun is the United Kingdom's biggest selling newspaper – and judging by the success of its first edition, the Sunday version will dominate the weekend market.
Yesterday evening Rupert Murdoch, chief executive of US-based News Corp., the parent company of News International, tweeted, "Amazing! The Sun confirmed sale of 3,260,000 copies yesterday. Thanks all readers and advertisers. Sorry if sold out - more next time."
Two days before he had tweeted that he would be happy with sales "substantially" above two million – which would put the Sun on Sunday comfortably ahead of the 1.9 million circulation of the Mail on Sunday – which had become Britain's best-selling weekly paper following the demise of the NOTW.
---