After eviction, what next for Occupy London?
Occupy London protesters who have camped outside St. Paul's Cathedral say there's more work to be done, but some observers say the protesters' tactics have outlived their usefulness.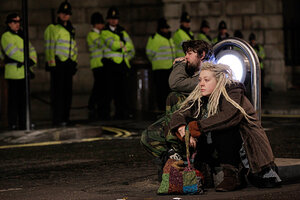 Sang Tan/AP
The Occupy London movement vowed to continue their protest today after their five-month-old camp outside St. Paul's Cathedral was cleared in a night-time operation by police and bailiffs.
Twenty people were arrested in the operation, which saw tents and barricades dismantled and up to 60 protesters moved from the site sandwiched between the cathedral and the London Stock Exchange.
Occupy London spokeswoman Naomi Colvin says, "We're all tired and exhausted after the events of the last few days and months. We all need to get some sleep and strength back before we decide what we do next, but this isn't the end of Occupy because what's going on in the current financial market isn't going away."
"We can be proud of what we have achieved. We have got people talking about injustice, bankers on big bonuses, and unfairness. For more than 20 years now we've let politicians and bankers run our system and look what's happened. We can't let this small group do all the decisionmaking on our behalf," she adds.
Riot police and legal officers moved in around 1 a.m. local time today and two hours later, street cleaners began to clean the pavement areas around the historic cathedral. Efforts by some of the protesters to set up new sites in London were thwarted by police.
The breakup came five months after anticapitalist protesters set up camp outside St. Paul's, sparking controversy within the Church of England and forcing the City of London Corporation to turn to the courts for permission to evict them.
After a drawn-out court battle, the Occupy movement was refused permission last week to challenge their eviction order, allowing the Corporation to make its move to clear them out. The City of London Corporation's policy chairman Stuart Fraser said, "It is regrettable that it had to come to the need for removal but the High Court judgment speaks for itself. The site has now been cleared and the area is undergoing a deep clean."
---