For Vladimir Putin, winning Russia's presidency may be the easy part
The Russian election has been engineered for a Vladimir Putin victory. His true challenge will come afterward, when he has to rule a country increasingly dissatisfied with his rule.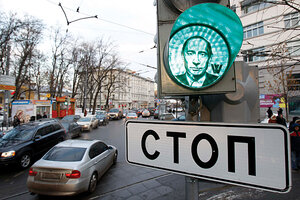 Sergei Karpukhin/Reuters
Vladimir Putin, the former and almost-certain-to-be future president of Russia, appears to be heading for a solid first-round victory in March 4 polls. But winning this race on a track that's been engineered to give him all the advantages, against a pack of rivals culled to ensure no surprises, might prove to be the easy part for Mr. Putin.
Until recently, most Russians appeared to meekly accept the preordained outcomes of Putin's "managed democracy." During his previous terms as president, Putin succeeded in stabilizing Russian society, growing the economy – largely on the back of soaring oil prices, Russia's main export – and restoring some sense of national pride. Russians accepted the sharp limits on free speech and political choice as the price of relative prosperity and personal freedoms.
But that acceptance appears to be over. This time, Putin faces an aroused electorate, including tens of thousands who have taken to the streets repeatedly since December to protest the system's rigged nature, the tightly limited spectrum of available choices, and Putin's insistence on returning for a third presidential term after a stint as prime minister.
---