For Vladimir Putin, winning Russia's presidency may be the easy part
The Russian election has been engineered for a Vladimir Putin victory. His true challenge will come afterward, when he has to rule a country increasingly dissatisfied with his rule.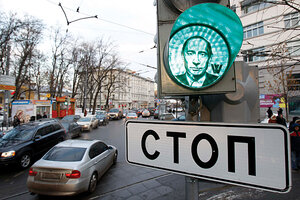 Sergei Karpukhin/Reuters
Vladimir Putin, the former and almost-certain-to-be future president of Russia, appears to be heading for a solid first-round victory in March 4 polls. But winning this race on a track that's been engineered to give him all the advantages, against a pack of rivals culled to ensure no surprises, might prove to be the easy part for Mr. Putin. 
Until recently, most Russians appeared to meekly accept the preordained outcomes of Putin's "managed democracy." During his previous terms as president, Putin succeeded in stabilizing Russian society, growing the economy – largely on the back of soaring oil prices, Russia's main export – and restoring some sense of national pride. Russians accepted the sharp limits on free speech and political choice as the price of relative prosperity and personal freedoms. 
But that acceptance appears to be over. This time, Putin faces an aroused electorate, including tens of thousands who have taken to the streets repeatedly since December to protest the system's rigged nature, the tightly limited spectrum of available choices, and Putin's insistence on returning for a third presidential term after a stint as prime minister. 
Putin can no longer count on the stratospheric public approval ratings that allowed him to walk to a 71 percent reelection victory in 2004 and secured his handpicked protégé, Dmitry Medvedev, 70 percent of the vote in 2008. But according to a poll released this week by the independent Levada Center in Moscow, Putin's public approval rating has fallen from a high of 85 percent in mid-2008 to about 65 percent this month. The survey predicts that Putin will win comfortably on March 4, with over 60 percent of the votes. 
After widespread public outrage over reports of fraud in the Dec. 4 parliamentary elections, this voting day will see something new for Russia: Up to 50,000 volunteer monitors will swarm over polling stations around the country, keeping a close eye on ballot boxes and watching votes get counted. 
The campaign's final days have seen some odd twists, which suggest Putin's handlers may not fully trust the pollsters' projections. This week Russian security services announced, with great media fanfare, that they had thwarted a plot by Chechen terrorists to assassinate Putin after the election – a claim that critics ridiculed as a desperate election ploy. 
Then, just days before the voting, Putin himself claimed that opposition forces were planning to kill one of their own leaders, and blame it on the Kremlin, in order to disrupt his expected electoral victory. "They are looking among well-known people for a sacrificial victim," Putin said. "They could, I'm sorry, knock someone off and then blame the authorities."
Opposition leaders say the mood of the country is hard to gauge, but there is a strong sense of momentum swinging against Putin. 
"In previous elections, Putin's ratings were always high enough to be sure he would win honestly. If there was fraud in the past – and I think there was – no one seriously claimed that it changed the basic outcome. Now, the picture is very different," says Ilya Ponomaryov, a Duma deputy with the Just Russia party and a leader of the rallies against electoral fraud. 
"There is great doubt whether Putin can win a fair victory this time. Some polls show his real support is down to 35 percent or less. He will need major falsifications to pull it off, and the machine is already working toward that end. So, even if he wins, Putin is on a collision course with the public, whose resentment of being manipulated by the system is rising with each day," he says. 
Anti-corruption blogger Alexei Navalny, who is widely regarded as a presidential contender for the post-Putin era, says that many opposition leaders will simply refuse to recognize Putin's expected victory.
"We are quite clear that on March 5, Putin will declare himself the president of Russia. In fact, he would call himself a czar or an emperor," Navalny said today in an interview with Margaret Warner of PBS, to be broadcast on Newshour. "We will not accept this and we will continue to demand political reforms, new parliamentary elections within a year, and new presidential elections within two years."Â 
Challengers who don't pose much challenge
One key criticism of Putin-era elections is that the ballots are the result of careful manipulation by the Kremlin, rather than a frank listing of the country's viable political forces. Who receives a place on the ballot is often less telling than who does not. 
Among Putin's four challengers is Communist Party leader Gennady Zyuganov, who enjoys a strong but aging base of about 15 percent of the electorate. But Mr. Zyuganov, who posed a real threat to the post-Soviet establishment in the 1990s, is an unreconstructed communist who gives every appearance of having settled for his waning share of influence. 
Another drearily predictable quantity is Vladimir Zhirinovsky, leader of the ultranationalist Liberal Democratic Party, who has run in every presidential election since 1990 and usually nets about 10 percent of the votes. Mr. Zhirinovsky is often a fiery orator who laces his speeches with anti-Western rhetoric and the occasional racist barb, but his parliamentary caucus has never voted against a single Kremlin-approved policy. 
Yet another is Sergei Mironov, a former Putin ally who received less than 1 percent of the votes when he ran for president in 2004. At the time, he claimed he was only in the race to ensure there would be a non-Putin choice on the ballot. 
The only splash of color is provided by metals tycoon Mikhail Prokhorov, owner of the New Jersey Nets basketball team, who announced his candidacy after December's mass demonstrations. He pledged to speak for a rising middle class and gained a bit of traction, despite widespread suspicion that he's a Kremlin stalking horse (the last superwealthy Russian to challenge Putin, oil magnate Mikhail Khodorkovsky, is in his ninth year in a Siberian penal colony). 
But Mr. Prokhorov is a jet-setting playboy and one of the handful of 1990s "oligarchs" who are widely reviled for getting rich through murky privatizations of former Soviet state assets while the economy collapsed. Pollsters give him no chance of gaining favor in Russia's vast, conservative, working-class hinterland. 
"Prokhorov has shot from 2 percent backing to 8 percent since the beginning of the election campaign," says Lev Gudkov, director of the Levada Center. "In Moscow, where there are alternatives to state-run TV and people know him, his support is growing. In opposition circles he's viewed as an important protest candidate, but even there his personality doesn't attract much sympathy."Â 
True opponents kept off the ballot
Not on the ballot are representatives of nine parties that the Justice Ministry has refused to register. That includes the leaders of the liberal Party of People's Freedom, all of them formidable, experienced politicians such as former Prime Minister Mikhail Kasyanov, former Deputy Prime Minister Boris Nemtsov, and former independent Duma deputy Vladimir Ryzhkov. Veteran left-wing activists such as Sergei Udaltsov, a leader of the recent street opposition, have also not been permitted to run. 
Grigory Yavlinsky, one of Russia's most respected independent politicians, was struck from the ballot in January on a technicality – submitting computer scans of nomination petitions – that officials later admitted was probably not against the rules. He's out nevertheless, and many experts suggest he was banned because he might have attracted enough protest votes to deny Putin a first-round victory. 
"The authorities are totally fixated on getting that first-round win for Putin, and they are pulling out all the stops," says Alexei Makarkin, deputy director of the independent Center for Political Technologies in Moscow. "It's critical to maintaining bureaucratic confidence in the system; if Putin should not win decisively, it will lead to the erosion of the regime."Â 
'A special life' for Putin
Even the carefully vetted challengers complain they are blocked at every turn from campaigning fairly. "Over 70 percent of all TV time goes to Putin, and it's all about how he's fulfilling his duties as prime minister," says Sergei Obukhov, a Communist Party Duma deputy. He complains that Putin has refused to participate in TV debates, instead churning out a series of high-profile newspaper articles promising to fix all of Russia's problems, from population decline to military weakness. (For coverage of more of his articles, read here and here.)Â 
"We're all trying to run in an election, but Putin seems to live his own special life while the media creates the impression that the country will collapse if he ever leaves," Mr. Obukhov says. 
Even billionaire Prokhorov's people say officials around the country just won't let their candidate campaign. "Our efforts are systematically sabotaged; advertising companies cannot explain why Prokhorov's billboards keep disappearing," says Alexei Urazov, a spokesman. 
Putin's troubles may be just beginning, even if he wins handily in the first round. 
"The political system is unbalanced and the threat of colored revolution is very real," Olga Kryshtanovskaya, one of Russia's top political sociologists, told the daily Kommersant last week. "Whoever is elected president will face the necessity to restore order in the country. Putin will have to choose his style. It can be either hard or soft.… The worse the destabilization is, the more likely we will see the hard line." 
---