Protest leaders weigh new tactics as anti-Putin rallies shrink
Thousands of Moscow residents rallied Saturday against Vladimir Putin. But crowds were smaller, and protest leaders say they need fresh ideas to counter disillusionment and divisions.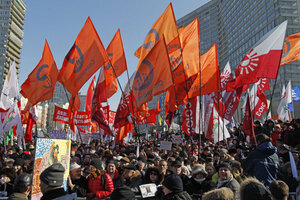 Ivan Sekretarev/AP
Thousands of Muscovites demonstrated against Vladimir Putin's disputed election victory on a downtown square Saturday, indicating that the protest movement born after allegedly fraudulent Duma elections three months ago is far from finished.
But crowds were much smaller than in the past, reflecting demoralization with Putin's huge win and growing divisions within the opposition over the way forward now that Mr. Putin seems definitely headed for another six-year term as Russia's president.
Police put the size of the crowd on Moscow's central Novy Arbat, a broad avenue lined with 1960s-era skyscrapers, at about 10,000. Organizers claimed twice that many, but it clearly could not match the 100,000-plus who turned out in February to demand fair elections, a more democratic political system and for Putin to rethink his plans to return for a third time.
It was also hard to ignore that recent pro-Putin crowds in Moscow, mobilized by a worried Kremlin to create a counterbalance to the protesters, have been much larger as well.
Protest leaders had different takes on the situation Saturday. Some, such as radical leftist Sergei Udaltsov after the rally ended; he and about 60 others were quickly surrounded and arrested by phalanxes of armored riot police.
---