To reboot Italy's economy, Monti takes on the cabbies
Italian Prime Minister Mario Monti has made liberalizing the service sector a key economic initiative, but the taxi industry is resisting.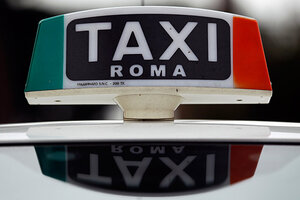 Alessandro Bianchi/Reuters
Italian Prime Minister Mario Monti was brought into office to tackle the country's immense debt and reform the lagging Italian economy. But resistance to his liberalization proposals shows just how difficult it may be for him to change entrenched economic practices.
Just look at the taxi industry.
Mr. Monti, who was appointed last year after former prime minister Silvio Berlusconi's resignation, immediately set out to cut spending and chip away at Italy's debt, which was 120.1 percent of GDP in 2011. Now he has shifted his focus to growth, presenting his "Grow Italy" scheme for opening up the highly regulated service sector.
The taxi industry's pushback is emblematic of larger problems. Monti aims to make it more competitive by easing the limits on the number of taxi licenses, which is expected to force city councils to lower service rates. His plan also addresses other professions with high barriers to entry such as lawyers, notaries, gas stations, pharmacies, and newsstands. The senate already removed some of his proposals during the amendment process.
"The liberalization decree, which covers a wide range of areas, also hit sectors that are less relevant to economic growth, but are emblematic of an old problem that the Italian economy has: the unearned income," said Marcello Messori, professor of economics at the University of Rome 'Tor Vergata.' "It indicates that, for the first [time] in a long time, there is an intention to tackle this problem."
The Monti administration says there are too many taxis, evident in the long lines of white cars on city streets that wait an average of 90 minutes before getting a customer – because rates are too high. If the number of licenses was increased, there would be more competition and fares would have to drop, increasing demand, the administration argues.
---