Two vetoes later, Russia says it will now back UN plan on Syria
Russia has steadfastly rejected pressure by the UN Security Council for Syrian President Assad to step aside. It says it will now support a UN resolution supporting a cease-fire, Red Cross access.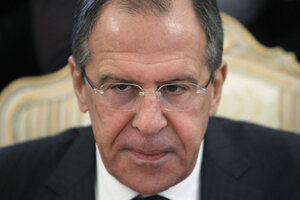 Misha Japaridze/AP
Russian Foreign Minister Sergei Lavrov today scoffed at reports that Moscow had sent troops to strife-torn Syria to deter outside intervention and implied that the allegations were an attempt by pro-interventionists to disrupt an impending agreement on a path to peace based on a plan by United Nations special envoy Kofi Annan.
Mr. Lavrov said Russia is willing to step up political pressure on President Bashar al-Assad and support a UN resolution that would call on all sides in Syria's conflict to reach accord on such issues as daily cease-fires and humanitarian corridors to allow the Red Cross access to civilians, and to urge progress on negotiations to end the hostilities.
"The Security Council should support [such a resolution] not as an ultimatum, but as a basis for the continuing efforts by Kofi Annan aimed at reaching accord between all the Syrians, the government, and all opposition groups on all key issues, such as humanitarian corridors, halting hostilities by all parties, the beginning of a political dialogue, and offering access to the media," Lavrov said after talks with his Lebanese counterpart in Moscow today.
---