French gunman: I was planning more attacks, with outside funds
Police say Mohammed Merah, the gunman responsible for killing three soldiers, a rabbi, and three schoolchildren, made an early morning phone call to France 24 to talk about his motives.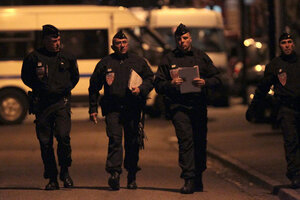 Bob Edme/AP
Intensive sleuthing, videotape, a scooter repairman, and apparent good fortune helped French police apprehend a serial killer hours before he said he planned to kill again.
Mohammed Merah, a 24-year-old Algerian who claims ties to Al Qaeda, found himself under siege in a Toulouse apartment at 5:40 a.m. today, only hours after phoning a French television news station to give a concise and clear explanation for his decision to kill seven people, including three children, and to reveal that he planned similar operations in cities across France.
France, which was in a state of apprehension yesterday over an elusive unidentified killer and on its highest state of alert (scarlet), now has not only had several relatives and friends of Mr. Merah under detention, but also volumes of information and motives about the suspect, who was still engaged in a standoff with police as of press time. His mother, two brothers, a friend, and a girlfriend are all under police custody.
Merah told TV news station France 24 he was allied with Al Qaeda and upholding the honor of his Islamic faith. He also said the killing of the three paratroopers and four Jewish individuals was "necessary" and that he planned to do similar acts in Toulouse again, as well as Paris, Marseilles, and Lyon, according to Ebba Kalondo, the night editor at France 24 who took the call, made from a phone booth at 1 a.m.
---