Jewish community draws solace from France's response to killings
Since a gunman killed a rabbi and three children at a Jewish school in Toulouse, French Jews have been bolstered by the universal national revulsion over the attacks.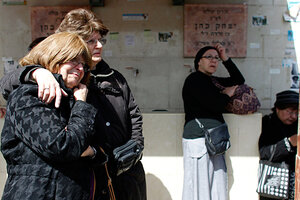 Nir Elias/Reuters
Rabbi Ariel Messas was up early teaching Torah to children at a Paris synagogue Monday when his phone lit up with text messages of an attack: Four orthodox Jews murdered at a school in Toulouse that he knew. In a book-lined study room off the temple sanctuary, Rabbi Messas says he tuned his iPhone to a Paris Jewish radio station; all three sub-channels carried the news, and set the device on a heavy wooden table to listen: "It was just past belief."
Messas, whose father was a chief rabbi of Paris, and whose grandfather was chief rabbi in Morocco and then Jerusalem, draws a breath, and says through a well-trimmed beard, "you cannot say how you felt.... it was très, très mal, very bad, and it raised some dark memories of the past in Europe for Jews."
The gunman – a 24-year-old Frenchman of Algerian heritage who claims to be part of Al Qaeda – was surrounded by police and died in a firefight this morning. But the question remains whether the shootings are part of a single cell or part of a larger team. "We hope it is just one person, one lone and crazy person … not something, you know, organized," Messas notes quietly.
In the two days after the gunman methodically killed a rabbi and three children at the Ozar Hatorah school in Toulouse, attacks that followed the killing of three French soldiers, Jews have joined together in support, solace, and some fear. In Paris, every synagogue is holding special services and meetings during the week. At Ahavat Shalom temple, where Messas is chief rabbi, a half mile from the Eiffel Tower, for example, two blue-clad policemen with walkie-talkies monitor the entrance.
---