Britain's 'millionaire' budget eases taxes on the rich
Britain released its annual budget yesterday, which includes a tax cut for the country's biggest earners – but also eliminates taxes for Britain's lowest earners.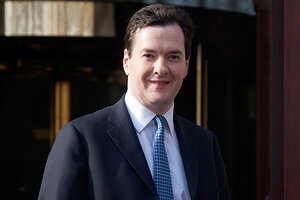 Neil Hall/Reuters
Britain's top financial official cut the tax rate of the country's biggest earners in the annual budget released yesterday, prompting sharp condemnation of "a millionaire's budget" from the opposition Labour party.
Chancellor of the Exchequer George Osborne reduced the income tax rate of those who earn more than £150,000 ($237,000) a year from 50 percent to 45 percent. The previous Labour government had introduced the tax, arguing that squeezing the rich was a fair way of paying for Britain's services.
The Conservative-led coalition did strive to appear even-handed, though. It increased the amount a person is able to earn without paying income tax by £1,100 ($1,738), bringing it to £9,205 ($14,500) – a move that is estimated to excuse an additional 840,000 people from paying tax altogether.
Taxation was the main focus of Osborne's budget this year, following deep spending cuts in the previous budget that slashed welfare benefits and government spending across a number of departments. The government's core objective is erasing a huge budget deficit that topped more than 11 percent of GDP when the Conservative-Liberal Democrat coalition came to power in 2010.
Osborne's budget also includes new ways of prying money from the wealthy, including a new 7 percent "stamp duty" levied on buyers of properties worth more than £2 million ($3.16 million).
---