Algeria: France's Toulouse gunman is not ours
French media have repeatedly pointed out Mohammed Merah's Algerian roots, but their Algerian counterparts note that he was born and raised in France.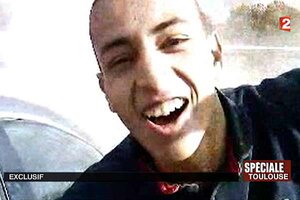 France 2/AP
French media have not shied away from referencing the Algerian roots of 23-year-old Toulouse gunman Mohammed Merah since French authorities disclosed them. However, their Algerian counterparts have kicked up a storm, eager to renounce Mr. Merah's Algerian identity.
No, wait. That's not quite right. Algerian media are actually pointing out, correctly, that Merah is not Algerian at all. He was born and raised in France, went to French schools, ate and watched TV in the suburbs of Toulouse, and tried to join the French Foreign Legion. He spent much of his life with his family in the French projects, an area known as Les Izards in northeast Toulouse.
That makes him French, not Algerian, they say.
The effort to turn Merah into a quasi-Algerian takes the identity of a French kid whose father left him in Toulouse at the age of six and transforms it into a kind of shadowy stereotype – a dangerous Algerian of ill repute.
As the daily newspaper Le Quotidien d'Oran puts it, "By emphasizing the Algerian origin of Mohamad Merah … France outsources crime and washes its hands of responsibility."
The same publication, influential in Algeria, stated, " 'The Algerian origin' [of Merah] is hammered [in French media] as a kind of genetic fingerprint and ethnic crime, and is even more unbearable than the entire French political scene.…"
---