Russia to Romney: How could we be your No. 1 enemy?
Mitt Romney's comment has astounded Russians, who acknowledge mixed relations with the US but point to Russia's integration with the international community as proof that they are not foe No. 1.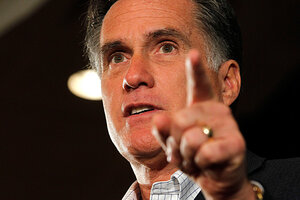 Gerald Herbert/AP/File
Memo to Mitt Romney from Russia: Didn't the cold war end more than two decades ago?
That pretty much sums up the reaction from many Russians today, where Mr. Romney's "enemy No. 1" jab at Moscow has been played over and over by official media, amid mounting public outrage, since he uttered it in response to President Obama's inadvertently overheard blunt political chat with Russian President Dmitry Medvedev on the sidelines of a security conference in Seoul.
Mr. Obama was seen making nice with Mr. Medvedev and, apparently unaware that microphones were on, asking the Russians to dial back their objections to US missile defense plans until after he's reelected in November, when "I'll have more flexibility."
Romney pounced, not merely at the appearance of secret diplomacy by Obama, but seemingly at Russia itself.
"This is, without question, our No. 1 geopolitical foe. They – they fight every cause for the world's worst actors. The idea that he has some more flexibility in mind for Russia is very, very troubling indeed," Romney said in an interview with CNN. "The idea that our president is planning on doing something with them that he's not willing to tell the American people before the election is something I find very, very alarming."
---