Libya to Europe: Remember us?
Former Libyan Prime Minister Mahmoud Jibril traveled to Brussels to warn European leaders about the dangers of abandoning their work in Libya before the country is stabilized.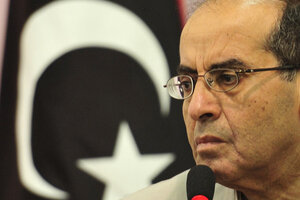 Esam Al-Fetori/REUTERS/File
Former Libyan Prime Minister Mahmoud Jibril said at a European conference that his struggling nation feels practically "abandoned" by Europe – where attention is focused on Syria – and that the youth who brought the 2011 revolution are "being completely left out of the picture" ahead of elections in June.
It is a "tragic mistake … a fatal mistake" to abandon Libya at this time, said the former leader of the Transitional National Council. "Libya is in a political and security vacuum, and vacuums do not remain vacuums. Extremism might spread at any moment," Mr. Jibril warned. "I am afraid that early indicators are there right now."
More than a year after France and Britain spearheaded air strikes in Libya and seven months after the fall of former dictator Muammar Qaddafi, Jibril traveled to Brussels for the German Marshall Fund's annual forum to deliver some harsh words. EU foreign policy chief Catherine Ashton, who was present, disagreed that Libya had been forgotten.
---