Did James Murdoch jump from BskyB before he was pushed?
James Murdoch, son of billionaire Rupert Murdoch, stepped down as chairman of News Corps BskyB satellite broadcaster, as two investigations into the family business near their conclusion.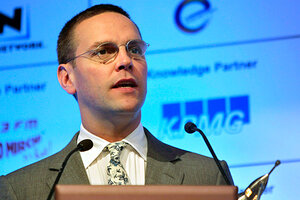 Rafiq Maqbool/AP
James Murdoch's fate has been the subject of much speculation since the beginning of the phone-hacking scandal that brought down long-lived tabloid News of the World last year. But only today did Mr. Murdoch, son of media tycoon Rupert Murdoch, finally step down as the chairman of the BSkyB board. Why now, after months of resistance?
Perhaps the foremost reason for his departure now is that the younger Murdoch is the subject of two separate investigations, one soon to publicize its findings and the other recently ratcheted up in intensity.
The Murdoch family's British newspaper holdings have been under Parliamentary scrutiny since early last year and that inquiry is now nearing conclusion: ITV reports that committee chair John Whittingdale said they hope to publish their findings by the end of April. The report is not expected to reflect well on James, under whose charge the staff of the News of the World reportedly broke into the phone messages of celebrities, politicians, and other public figures to obtain scoops.
While Murdoch told the committee that he was unaware of any misconduct at NotW, the assertion that he didn't know what was going on at the paper undermines his position as a corporate leader. And if the committee's report focuses on Murdoch, it could do further damage that would force him to resign his chairmanship; at least a resignation now enables him to control his destiny.
The second investigation, being performed by British media regulator Ofcom, is a far more direct threat to the corporate wellbeing of BSkyB, as it endangers the satellite broadcaster's license to broadcast. BskyB, the dominant pay-television provider in the UK, is where the real money is within the English wing of the Murdoch empire, with over $7 billion in annual sales. Simply walking away from the company, as was done with NotW, is not an option.
---