Workers say zealous eurozone reformers are eroding their sacred rights
Union powers and workers' protections have been severely curtailed to make Europe's struggling economies more competitive. Some say the cuts have gone further than necessary.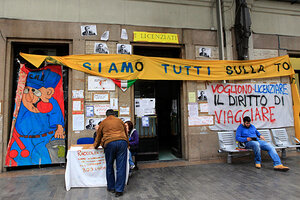 Luca Bruno/AP
When European Central Bank president Mario Draghi recently told German tabloid Bild "The worst is over," he was talking about government budgets and European banks' balance sheets. But for millions of workers across the continent, the worst of Europe's economic crisis might still be coming.
The trade unions and their supporters complain that the eurozone crisis is being used to create a different social model within Europe, a model that has lesser rights for employees, limits the influence of the unions, and grants business more power.
European workers have long enjoyed strong protection of their rights, but trade unions warn of a campaign to limit those rights, squeeze wages, raise the retirement age, and soften regulations that protect against getting fired. Such measures have been portrayed as a necessary part of bringing national debts under control and making European businesses competitive, but they go beyond what is needed to overcome the debt crisis, the unions say.
"Europe is turning into an entrepreneur's paradise," says Apostolos Kapsalis from the Labor Research Institute in Athens, which is part of the Greek trade unions confederation GSEE. "And Greece is the lab rat in this European reform experiment. In Greece they are testing how far they can go."
The reforms, particularly in southern Europe, are far-reaching. In Greece the minimum wage has been lowered from €750 to €590, while unemployment benefits have been cut from €460 to €320 per month. Collective bargaining through trade unions has been replaced in many sectors by wage agreements between individual companies and their employees.
---