To the barricades? French rally behind far-left candidate's fighting words
Jean Luc Mélenchon has suddenly become the No. 3 French presidential candidate, whipping up crowds with his robust leftist rhetoric in a tough election season.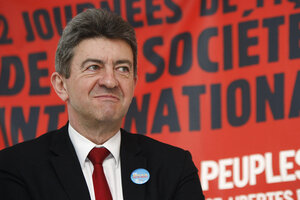 Philippe Laurenson/REUTERS
To the barricades, citizens: Jean Luc Mélenchon is on the rise, claiming the authentic voice of the old French Revolution in upcoming elections.
But the French presidential candidate is something new: a far-left nationalist who can whip up a crowd. He shakes his fists, waves the red flag, calls for a "civic insurrection" among citizens, scorns elites, hates capitalism – and has suddenly become the No. 3 candidate in this somewhat fractious and tortured election season.
Police this week continued high-profile roundups of suspected Islamic radicals after the shock of a Toulouse attacker who killed soldiers and Jewish children and claimed to be linked to Al Qaeda. President Nicolas Sarkozy and much of the French media have shifted the subject of the elections to Muslims and foreigners.
But a new and serious dynamic in the race is now playing out on the vast French left, which includes about half of voters. Behind the Mélenchon phenomenon is a sizable bloc of urban working class and middle class voters, uncommitted, worried about jobs, housing, and pensions, and less fixated on the identity politics of Mr. Sarkozy and far-right candidate Marine Le Pen. Mr. Mélenchon's rhetoric also shows that in France, "red meat" issues of social justice on the left continue to persist.
---