Breivik deemed sane, prison now possible for Norwegian gunman
The second psychiatric evaluation of Anders Behring Breivik contradicted an earlier conclusion of paranoid schizophrenia, making prison time possible for killing 77 people last summer.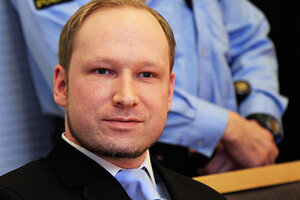 Lise Aserud/Scanpix Norway/AP
A psychiatric report has declared Norwegian mass murderer Anders Behring Breivik sane, making it more likely that the man who has confessed to twin terror attacks last summer in Norway's worst peacetime atrocity may serve prison time.
The 310-page report counters the first forensic report from November that controversially deemed Mr. Breivik paranoid schizophrenic, and therefore criminally not punishable for a car bomb in front of Oslo government buildings and a shooting rampage at a Labor party youth summer camp at the nearby island of Utøya. The two attacks killed 77 people altogether.
Psychiatrists Agnar Aspaas and Terje Tørrisen concluded in the second report that Breivik was "not psychotic, unaware or severely handicapped at the time of the acts," nor was he psychotic during examinations. However, there was a "high risk of repetition of violence."
"The defendant does not have a serious mental illness involving significantly weakened capacity for realistic evaluation of his relations with the outside world," the Oslo District Court said in a press statement summarizing the confidential report.
The report changes the whole momentum of the trial. The judges, who have the final say in determining Breivik's sanity, now have the option of questioning the first report and concluding that he is sane. They will base their decision on both reports, as well as the evidence during the 10-week trial, set to start next week.
---