European court ends era of safe harbor for Abu Hamza
The European Court of Human Rights today ruled that extraditing radical Muslim cleric Abu Hamza to the US would not violate his rights and is therefore permissible.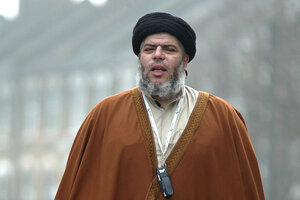 Alastair Grant/AP
Britain has been trying to extradite radical Muslim cleric Abu Hamza to the US since 2008, and now it probably can.
Defying stereotypes of it in the British press as soft, the European Court of Human Rights today agreed that Mr. Hamza, also known as Abu Hamza al-Masri, and four others could be extradited to the US to face charges of planning a terror training camp in Oregon and kidnapping Western tourists in Yemen, among other crimes.
The European court, to which Britain is a signatory, ruled unanimously that imprisonment in the US "supermax" facility in Colorado would not violate the men's human rights, saying "if the applicants were convicted as charged, the US authorities would be justified in considering them a significant security risk and in imposing strict limitations on their ability to communicate with the outside world."
The court added that inmates in the ADX prison, as it is known, had access to radio, TV, social visits, hobbies, and may be better treated than in some European jails.
Hamza gained British notoriety as the imam of the Finsbury Park mosque who rejoiced in the Sept. 11 World Trade Center attacks. The Egyptian-born imam, who has one eye and an artificial right arm because of injuries incurred while fighting the Soviets in Afghanistan, openly called for violent jihad, and has been serving time on charges of incitement to murder and hate crimes.
---