In increasingly urban France, farmers still wield political clout
France's rural community is shrinking, but candidates in next week's presidential election are careful to woo farmers, who turn out in higher rates than other voters.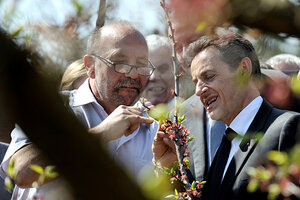 Eric Feferberg/AP
When President Nicolas Sarkozy praised farming as "a high-tech sector indispensable to the economy" at a meeting of France's biggest farmers union last month, cereal producer Etienne Gangneron felt vindicated.
"We've put agriculture back to the center of the political debate," says Mr. Gangneron, who is also vice president of the union, FNSEA. "We want to show that French agriculture is alive and well, and it makes the country thrive."
Farmers are a critical part of the national identity of Europe's top farming nation. They are the guardians of the good food, joie de vivre, vineyards, and idyllic countryside for which France is known.
But with 18,000 farms closing every year for more than a decade, farmers' clout is on the decline. The election of Mr. Sarkozy, France's first urban president, heralded a new era. Farmers soon resented him for his blunders at farm shows and his support for environmental regulations they view as bureaucratic and stifling. They also blame his government for not doing enough to lower the cost of hiring seasonal workers.
"Sarkozy's disinterest is the reflection of a society that has changed," Gangneron says.
Since Sarkozy's election in 2007, Germany has overtaken France as Europe's first agricultural food exporter. Gangneron says Sarkozy has listened to "ideological groups," rather than the farmers themselves.
"A lot of farmers have not digested this period," says Gangneron. "People are saying 'I am fed up with the Sarkozy era.' "
---