Is Russia's Orthodox Church privileged or persecuted?
The Russian Orthodox Church's ties with the government are facing push back. Church leaders have decried recent incidents, including a punk band's protest inside a church.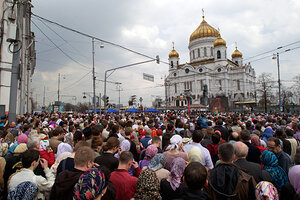 Ivan Sekretarev/AP
Tens of thousands of people attended special services across Russia yesterday – about 50,000 in Moscow alone – to pray in defense of the Russian Orthodox Church, which insists that it is facing an unprecedented attack from irreligious social forces that are out to destroy its reputation and undermine the nation's faith.
The Moscow prayer meeting at the cavernous Cathedral of Christ the Savior, a stone's throw from the Kremlin, was led by Patriarch Kirill, whose lifestyle, formerly off-limits, has become the subject of public scrutiny and a roiling controversy over his alleged job perks and wealth.
Kirill told the huge crowd that the church had to respond to a spate of sacrilegious challenges that began in February when a women's punk rock group entered the same cathedral – which was almost empty at the time – and performed an obscenity-laced "punk prayer" to protest the church's alleged support for the electoral campaign of Vladimir Putin.
"We are under attack by persecutors," Kirill said. "The danger is in the very fact that blasphemy, derision of the sacred is put forth as a lawful expression of human freedom which must be protected in a modern society."
Three members of the band were arrested, and could face up to seven years in prison for the impromptu performance. The incident, and the subsequent trial of the women, has blown open a long-simmering debate about the social role of the church, its allegedly cozy links with the Kremlin, and the way Russia's "anti-extremist" laws are often invoked to protect the church from criticism or artistic commentary that would pass largely unnoticed in most Western societies.
---