Breivik says psychiatric report deeming him insane is full of 'fabrications'
Anders Behring Breivik, the man behind Norway's terror attacks last summer, said in court today that the psychiatrists made up 80 percent of the report and don't understand politically motivated violence.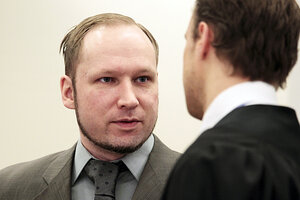 Hakon Mosvold Larsen/AP
Anders Behring Breivik, the Norwegian behind last summer's twin terror attacks, today blasted a forensic psychiatric report deeming him insane and warned his actions could be just the beginning of violence in Europe by militant nationalists.
In the sixth day of his court testimony, an adamant – but, as usual, composed – Mr. Breivik told prosecutors that 80 percent of the report by psychiatrists Torgeir Husby and Synne Sørheim, which diagnosed him with paranoid schizophrenia, was fabricated.
He accused the psychiatrists of being emotionally affected by the July 22 attacks that killed 77, mostly teenagers, and of not having enough knowledge of politically motivated violence to understand his terminology.
"I got the impression that they concluded very early," Breivik told public prosecutor Svein Holden, saying the two doctors had constructed their diagnosis to support their conclusion. "That person they describe in the report is not me."
He cited an example in which he was portrayed as bacteria-phobic because he sometimes wore a mouth mask while living with his mother after 2006. He told prosecutors he had used a particle-filter mask to protect himself from dust while drilling detonation cases in preparation for his attack.
He said that what the psychiatrists had experienced as "emotional flatness" was actually part of his military dehumanization training and Bushido meditation to ward off fear in order to prepare for his gruesome attack.
"Huseby told me about two patients who thought they were Jesus," he said, referring to their claim he had said he would "single-handedly save" Europe. "I believe he meant that I should be the third case," Breivik said, denying that he ever said the word "save."
---