A year after wedding, British monarchy basks in 'Kate effect'
The Duchess of Cambridge, formerly known as Kate Middleton, enjoys widespread popularity a year after marrying Prince William.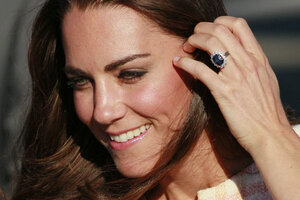 Robert F. Bukaty/AP/File
For decades, wax replicas of Queen Elizabeth II and her husband the Duke of Edinburgh have smiled benignly upon visitors from the central stage of the throne room at Madame Tussauds.
They were edged over earlier this month to make space for the Duke and Duchess of Cambridge amid expectations that the duchess (formerly known as Kate Middleton), dressed in the blue dress she wore for her engagement photo, her long, shiny locks perfectly copied, would replace the queen as the attraction's most touched and photographed waxwork.
Since Kate Middleton married Prince William in April last year, she has replaced the late Princess Diana as the "people's princess," an expression originally coined for Diana by the former British prime minister, Tony Blair.
Newspapers fawn over Kate's grace and beauty. There is repeated talk of the "Kate effect" on clothing brands that see their sales soar after she wears them. Crowds yell for her at her increasing number of public appearances. The shouts are loudest when she accompanies her husband, with whom she enjoys an evident happiness.
"She is really terribly popular," says Ingrid Seward, editor-in-chief of Majesty magazine and a pundit on the royal family. "She's believable – gorgeous but not uber-glam. She's socially so adept – she can talk to trees. She makes it all look so easy when in fact I think it must be a little scarier than that."
---