Missiles on my roof? Londoners push back on Olympics security
The defense ministry has begun putting anti-aircraft missiles on rooftops in a few parts of London ahead of the 2012 Olympic Games.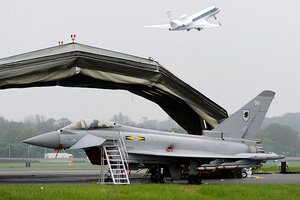 Paul Hackett/Reuters
With just 85 days to go until the London Olympics, Britain's military and security apparatus has begun testing its readiness to deal with potential terrorist attacks.
The nine-day Exercise Olympic Guardian security test involves coordinated air, land, and sea operations and helicopters, warships, troops, and four Typhoon fighter aircraft based at RAF Northolt in west London. The show of force is designed to test the responsiveness of antiterror plans developed by the Metropolitan Police, which will have 12,500 officers on the ground for the Games, backed up by 13,500 military personnel.
But while politicians, the military, and police were keen to display their hardware to the media at the start of the exercise yesterday, the plan to place ground-to-air missiles on the capital's rooftops has angered some residents who feel that security measures have gone too far, unnecessarily encroaching on their lives and even potentially putting them at risk.
So far, there have been no Olympics-specific terror threats, according to the Ministry of Defense.
The ministry has identified six potential sites for air defense batteries, mostly in north and east London. The deployment will cover both the Olympic Games between July 27 and Aug. 12 and the Paralympic Games between Aug. 29 and Sept. 9.
The defense ministry distributed leaflets detailing its missile deployment plans in London neighborhoods that might be affected, such as east London's Bow Quarter – the ministry is considering placing some on the roof of its Lexington Building.
---