Greece heads to the polls – and the political fringes
Today's national elections in Greece could see the end to a two-party monopoly over politics as discontent over the economic crisis generates interest in smaller parties.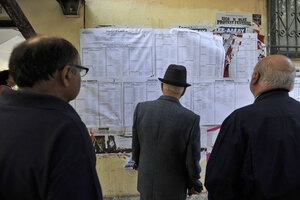 Nikolas Giakoumidis/AP
Greeks are casting their votes today in national elections that could end a 40-year era of political stability as economic hardships drive voters toward fringe parties.
For more than four decades, two major political forces – the socialist party PASOK and the liberal New Democracy (ND) party – have been ruling the country, collecting more than 70 percent of the elector's vote. This time, experts are saying that it's possible that the two parties gather less than 45 percent of the votes.
"Historically, it's the first time that the pillar of the political system, the bipartisanship, has been [shaken]," says Takis Kafetzis, professor of Political Science at the University of Peloponnese.
The continuous austerity measures and the sense that the political system of patronage has created a dysfunctional, corrupt state have led voters to look for something new.
"I wouldn't vote for the two parties that are primarily responsible for the Greek bankruptcy," says Aris Molfetas, a lawyer. "Their toxic governance cannot inflict change, since they have been addicted to ruling Greece through corporatocracy, bureaucracy, and corruption. They both belong in the past."
Polls show that for the first time, eight to nine parties will collect more than 3 percent of the votes, which is the threshold to enter the Parliament, but none of them will collect enough votes to form a government.
As the polls last released for the public two week ago showed, ND is expected to get 19 percent of the votes and PASOK 14.5 percent. But according to electoral law, the first party receives a 50 seats bonus in the Parliament, which might give the two parties together a marginal majority to form a government.
---