Putin inauguration: World view of a Russian feeling dissed
As the second presidential inauguration of Vladimir Putin approaches, a former correspondent who once worked for him looks at the world view of the Russian iron man. His theory: The president is feeling dissed by the West and believes it conspires to "destroy" Russia.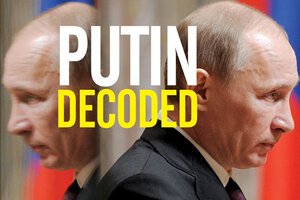 Alexey Druzhinin/AFP/Getty Images
My first memory of Vladimir Putin – if you can call it a memory – goes back to late 1991, just a month before the collapse of the Soviet Union, when I caught sight of him, without knowing who he was, of course, in St. Petersburg. I was making a series of reports for the BBC in the city, which had just been given its original name back, after 67 years as "Leningrad." As we filmed a meeting between the mayor, Anatoly Sobchak, and a visiting British politician, a small, fair-haired man flitted anonymously in the background.
Rewatching the footage 20 years later, I recognize the features: soft, thin hair parted to one side; glassy eyes; and protruding lips. He walks with his head pressed forward and an aggressive gait, rolling slightly from side to side. This is Mr. Putin at 39, recently returned from a five-year posting as a spy in East Germany and now head of the city's "external relations committee." He is unobtrusive and slightly nervous, just as you would expect from a man used to living in the shadows. He fingers his chin self-consciously, knowing a Western TV camera is pointed at him – possibly for the first time in his life.
Putin's job was to attract foreign investors to the city. He would later succeed in bringing in giants such as The Coca-Cola Company. But in 1991 his immediate priority was to solve the city's food crisis – a colossal task, as I saw for myself when I toured the St. Petersburg "food depot."
---