Germany frets, markets falter over French and Greek election results
In Germany, the results of yesterday's elections are seen as a refusal to follow the austerity plan hammered out by European leaders in long, painful negotiations.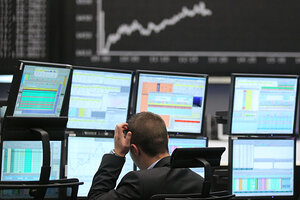 Alex Domanski/Reuters
Elections in France and Greece yesterday did not just bring down the incumbent governments in these two countries. They also mean the return of insecurity to the eurozone.
In France, the election winner, socialist François Hollande, campaigned on the promise to put an end to the dictate of austerity, prescribed under Germany's leadership as a cure to Europe's sovereign debt crisis. In Greece, the two main parties, the socialist Pasok and the conservative New Democracy, will not be able to continue their governing coalition without the inclusion of smaller parties, who have announced their intentions to renegotiate the conditions for the bailout package which keeps Greece from defaulting on its public debts.
Observers in Germany see the election results in France and Greece as a refusal of the voters to follow the course of categorical austerity, hammered out in month-long, painful negotiations between eurozone leaders.
"There are hard times ahead for the euro and for European markets," says Anastasios Papakostas, chief economist at K&P Invest, a Frankfurt-based consultancy firm. "We have just experienced a massive shift to the left in European politics, and that means re-negotiating the deals and agreements which were meant to solve the eurozone debt crisis."
---