Is Greece headed for do-over election?
Greece's far-left party Syriza, which came in second in elections, failed to form a coalition with either mainstream party today. Third-place PASOK will get a chance next, but its prospects seem dim.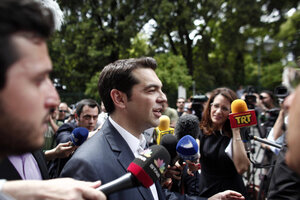 Kostas Tsironis/AP
A second attempt to form a coalition government in Greece failed today, making a June re-do of national elections the most likely scenario and leaving Greece in limbo for a month.
Alexis Tsipras, the leader of Syriza (Coalition of the Left), which came in second in the elections, yesterday got the mandate to form a government. He met earlier today with both Antonis Samaras, president of the center-right New Democracy party, and Evangelos Venizelos, president of the Socialist PASOK party, but failed to bring them on board.
Forty years of bipartisanship between New Democracy and PASOK ended on May 6, when, with 67 percent turnout, Greeks turned to parties other than the two traditional governing parties in record numbers, showing their anger with austerity measures.
Although New Democracy received the most votes – 18.85 percent – and PASOK came in third with 13.18 percent (behind Syriza with 16.78 percent), they didn't get enough votes to form a parliamentary majority. New Democracy was given the first opportunity to form a government. When it failed, the opportunity passed to Mr. Tsipras. Tsipras managed to get the support only of the Democratic Left, but still lacked enough seats to form a government.
The baton is now expected to be passed to PASOK, which came in third. Mr. Venizelos has proposed a unity government made up of New Democracy, PASOK, Syriza, and Dimar, another left party, setting as his only condition that the country remain in the eurozone, which even Syriza supports.
---