Hollande-Cameron don't agree on much – except need to save the eurozone
French President Hollande and UK Prime Minister Cameron meet in US today ahead of G8 summit. They are likely to find common ground on eurozone crisis despite differences over austerity.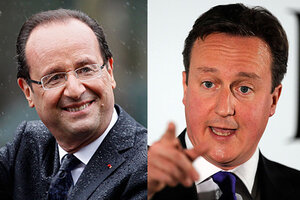 Laurent Cipriani/AP, Nigel Roddis/Reuters
When French President François Hollande and Prime Minister David Cameron of Britain meet for the first time today in the United States ahead of the G8 and NATO summits, they likely will do what the French and Britons have done for decades: Disagree on virtually everything – except the need to keep working together.
Mr. Hollande, a socialist, and Mr. Cameron, a conservative, have shared little common ground on issues such as NATO's military intervention in Afghanistan and measures to fix Europe's current economic crisis. Hollande repeatedly said during his presidential campaign that the European Union needs growth-oriented measures rather than the austerity-centered approach favored by Cameron and German Chancellor Angela Merkel.
Yet Hollande and Cameron do share one central goal: preventing an economic collapse of Greece that would result in it leaving the eurozone, an event whose dramatic consequences could include the end of the euro, Europe's common currency.
---