Hollande's first world appearance a double success
Less than a week after taking office, French President François Hollande traveled to the G-8 and NATO summits to make his case for new economic policies and a French pullout from Afghanistan.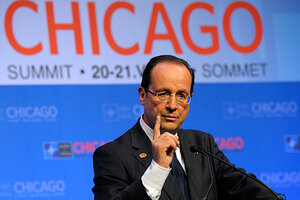 Philippe Wojazer/AP
With his announcement of the pullout of French combat troops from Afghanistan by year-end, President François Hollande yesterday concluded an intense four-day introduction to global affairs, less than a week after taking office.
"We consider that our mission, in terms of action and combat, is over," Mr. Hollande said of France's military intervention in Afghanistan at a press conference at the end of the NATO summit in Chicago.
Hollande, who isn't recognized in France for his diplomacy expertise and was unknown beyond its borders until a few weeks ago, was given credit by French experts and media for the way he handled his first appearance on the world stage. He appeared successful in making his two main points during meetings with world leaders from Friday to Monday: advocating for growth-oriented policies at the G-8 summit and making France's early withdrawal from Afghanistan official at the NATO summit.
Hollande's 'mission accomplished' moment?
Fabio Liberti, a Paris-based expert on defense and European issues, says Hollande managed to convey the need to promote economic growth over the austerity-only approach that Chancellor Angela Merkel of Germany favors.
---