New Russian cabinet packed with Putin loyalists
Despite promises of 'substantial renewal,' the new cabinet is filled with faces long seen around the Kremlin who will keep Prime Minister Dmitry Medvedev hemmed in.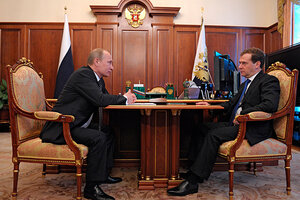 Alexei Druzhinin/Government Press Service/RIA Novosti/AP
There's a new government in Moscow, and a new Kremlin administration as well. It may take observers some time to master everyone's new job titles, but the officials are mostly familiar faces and proven loyalists of freshly-inaugurated President Vladimir Putin.
Though Mr. Putin has moved over from his former job as prime minister in the White House, where the Cabinet sits, to the presidential office in the Kremlin, the overwhelming message from his blizzard of official appointments yesterday and today is one of continuity. The leader who has effectively run Russia for the past twelve years with a detail-obsessed, hands-on managerial style plans to keep things that way.
Outgoing president and new prime minister Dmitry Medvedev, whose four-year tenure in the Kremlin was overshadowed by Putin at every step, will find himself equally hemmed in at his new office in the White House, experts say.
"The new government will depend entirely on Putin, its center will be in the Kremlin and all the key people will be there," says Dmitry Oreshkin, head of the Mercator Group, a Moscow political consultancy. "People of Putin's age and circle will determine Russian politics for the next few years, while the younger generation represented by Medvedev will have fewer plenary powers, will not be independent and will have narrow perspectives for their activity."
---