British, Spanish ships almost come to blows over 'The Rock'
The British navy and Spanish civil guard faced off today over a fishing dispute off the Gibraltar coast. Spain maintains it only ceded Gibraltar to the British, not the waters around it.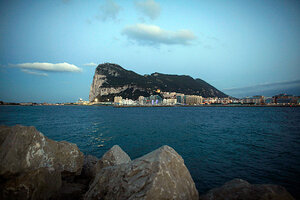 Jon Nazca/Reuters
The British Royal Navy and Spain's Civil Guard engaged in a testy three hour standoff this morning over the sovereignty of waters off Gibraltar that devolved into bad-mouthing and at least one small collision.
Spanish boats were fishing in waters claimed by both Spain and the UK when Gibraltarian police speedboats, backed up by the British Royal Navy, encircled them. Spanish Civil Guard armed patrollers and a helicopter came to the fishermen's defense, prompting the Royal Navy ship to intervene, setting off a shouting match, and causing at least one minor, and apparently accidental, collision.
It's not the first standoff at sea between Spain and Britain, but it is the most serious in decades. The new Gibraltar government said when it came to power in December that a 1999 agreement that gave Spain rights to fish off its coast was unconstitutional and began forcing back Spanish ships. Spain insists on returning to the 1999 agreement, but refuses to negotiate with Gibraltar.
The spat is exacerbating strains that began last week, when Spain's monarchy snubbed Queen Elizabeth's diamond jubilee in protest of next month's planned official visit to Gibraltar of Britain's Prince Edward, the youngest son of Queen Elizabeth, and his wife, Sophie, Countess of Wessex.
---