Britain's Big Lunch aims to bridge big divides amid Jubilee's good spirits
The annual Big Lunch, in which Britons of all walks of life gather to share meals, has been wrapped into Queen Elizabeth's Diamond Jubilee festivities this year.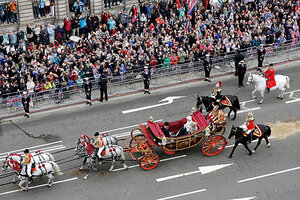 Matthew Lloyd/AP
Across Britain, neighbors are meeting to share a meal during the four days of Queen Elizabeth's Diamond Jubilee.
Known as the Big Lunch, the idea is to foster community with some cucumber sandwiches, curry, and conversation. Local volunteers organize the block parties across Britain, with last year's effort turning out nearly 2 million people.
"I haven't met people from Turkey before, but … I met some at this party and they are nice," says Clarissa Ihenacho, a Nigerian resident of south London attending a neighborhood Big Lunch today.
Ms. Ihenacho says the Turks offered to volunteer at an annual ceremony in London put on by the African community. Sharing each other's cultures, she says, "That's what it's all about, isn't it?"
By incorporating the annual Big Lunch into the jubilee, the palace joins successive British governments and parts of civil society who have tried to improve social cohesion in the country. However, what's driving people apart and how to bring them together again remain heavily disputed in Britain, undercutting many but the most uncontroversial efforts like the Lunch.
"We're a society of ever decreasing circles. Most of us just meet and hang out with people like ourselves, and we don't cross many class barriers or indeed racial or religious barriers," says Phillip Blond, one of the intellectual architects for Prime Minister David Cameron's social cohesion program called the Big Society.
---