Spain's biggest hurdle to a bank recovery: public distrust
Key to averting a banking collapse in Spain is persuading the public it's safe to keep money in the country – but government actions only exacerbated a loss in confidence.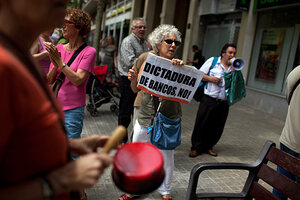 Emilio Morenatti/AP
As Spain keeps the world economy on edge while it scrambles to recapitalize its once-mighty financial sector, it's losing hold of perhaps its most important asset: citizens' trust.
"Too-big-to-fail" Spain appears to have averted a complete economic meltdown as Europe rushes to give it more time to recover. But rescuing the banks and averting a full-fledged embarrassing bailout is not enough. Central to Spain's ability to pull out of this crisis is corporate and public willingness to keep money and spending at home, instead of running to foreign banks and markets. And key to that, analysts say, is for the government to explain to Spaniards what went wrong, how the system will be fixed, and how those responsible will be held accountable – instead of stonewalling investigations.
Markets and global governments are concerned about a domino-effect bank run that could severely undermine the European Union financial system, as evidence mounts that Spaniards and investors alike are losing confidence in the country's institutions, not just its banks.
"I'm really scared," says Jesús Diaz, a young taxi driver. "If we have to ask Europe for a bailout, I'm pulling my money out because I don't know if Spain will become Greece. I have my taxi and I'm not going anywhere, but my brother will leave Spain because he has a degree."
Others know there is little refuge. "I'm not pulling my money out," says Purificación Ramos, a museum employee. "Where will I put it? Today one bank goes under, and tomorrow it will be another. I can't trust any of them."
A Euro bank bailout
---