Russian police raid activists' homes on eve of massive anti-Putin protest
The opposition sees the raid as the latest effort to intimidate Russians who have been protesting Vladimir Putin's government since December.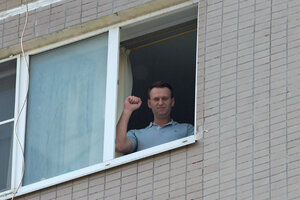 Rustem Adagamov/AP
Russian police raided the homes of at least 10 leading opposition figures today in a move widely perceived by the opposition as an intimidation tactic on the eve of what organizers are billing as the biggest-ever anti-Putin rally, scheduled to take place tomorrow on Moscow's central Pushkin Square.
Those whose apartments were searched included anticorruption blogger Alexei Navalny, who live-Tweeted the raid on his apartment by more than a dozen police. He said they refused to allow his lawyer into the building for several hours while they went through everything, hauling away all his computer equipment and flash drives, children's photos, and even a T-shirt that depicts a roguish-looking bear looting a map of Russia, a picture of which he sent out via Instagram. (The symbol of the ruling party, United Russia, is a bear.)
Others whose homes were hit included Solidarnost activist Ilya Yashin, left-wing leader Sergei Udaltsov, and even TV celebrity-cum-opposition leader Ksenia Sobchak.
A spokesman for Russia's Interior Ministry, Vladimir Markin, told journalists the searches were connected to an ongoing investigation of "disorders" that took place during a May 6 opposition rally – actually an attempt to stage a sit-down strike on a bridge by a tiny minority of protesters – on the eve of President Vladimir Putin's inauguration, which resulted in scores of injuries and more than 600 arrests when riot police charged a mostly peaceful crowd with tear gas and batons.
---